Drum dryers industrial!
✔ Relatively fast delivery times
✔ Supervision of the process from A to Z
✔ We work and deliver globally
When you require drum dryers for industrial use, count on Dutch Dryers BV. Our company has more than ten years of experience with regards to designing quality drying systems for a number of industrial applications. Whether you require drum dryers for processing sewage sludge, or for making nutritious animal feed from alfalfa grass, our expert engineers will make it happen. Moreover, every dryer we manufacture is custom-made to meet your needs and requirements. Read on to learn more.
Fully automated drum dryers for industrial use
Whether for industrial use or any other use, the principle behind drum dryers remains the same: they are thermal drying systems where the material that has to be dried gets fed through a rotating drum and is consequently dried by hot air. At Dutch Dryers BV, we build industrial drum dryers which are reliable, efficient and offer the needed capacity for your production process, no matter if this requires 500 or 50,000 litres of water evaporation per hour. Moreover, all our industrial drum dryers are fully automated and offer optimal and consistent drying result thanks to our advanced control software. Thanks to this automation, these drying systems can operate unmanned, and can be monitored and controlled remotely, either by you or by our experts.
Contact us with your ideas
Learn more about the possibilities we offer for designing bespoke drum dryers and belt dryers for a range of industrial uses. Contact us today and let us know your requirements. We are more than happy to draw up a business case or a quote for you. Phone +31 (0) 343 44 99 66 or use the contact form to contact us.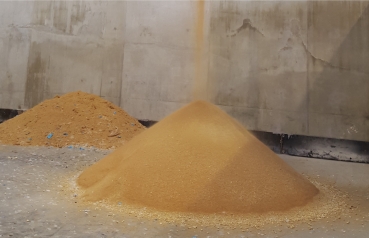 France
Indirect drying of all plant based food waste
Our customer is market leader in processing of by-products
Read more
Become an agent
Do you want to explore a partnership with Dutch Dryers. Don't hesitate to contact us and become our next agent.