Sawdust dryer
✔ Relatively fast delivery times
✔ Supervision of the process from A to Z
✔ We work and deliver globally
When sawdust is processed and dried properly on a belt dryer, the material can be used as a great source of energy. At Dutch Dryers BV, we specialise in designing customized drying systems for advanced applications. Numerous businesses from all over the world have already enjoyed our expertise, quality service and our sharp prices. Read on and discover more about the possibilities for a sawdust dryer for your company.
Process your sawdust with a belt dryer
Before sawdust can be packaged and ultimately used as a source of energy, the wood fibres have to be dried and turned into a more manageable size, such as compressed pellets. At Dutch Dryers BV, we can design a belt dryer to do exactly this in your production facility. Every dryer from our company is bespoke, so that it offers exact functions, capacity and other requirements for your workplace, as well as being appropriately sized for the available space. To ensure this, you are closely involved in the design process, especially during orientation where we invite you to spar with us to gain ideas and insight into the right configuration of your sawdust dryer.
Enquire after the possibilities
Contact us today and request a business case to investigate the possibilities for your bespoke belt dryer to process sawdust or enquire after a quote. It is also possible to use our dryers for other materials as well, such as alfalfa. We are happy to answer all enquires and to provide you with more information about our products and services. Phone +31 (0) 343 44 99 66 or contact us through our online form.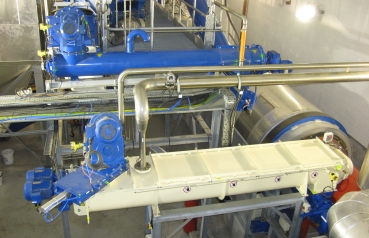 Ireland
The processing of sewage sludge
DDBM has built a thermal drying system in Ireland for drying sewage sludge ...
Read more
Become an agent
Do you want to explore a partnership with Dutch Dryers. Don't hesitate to contact us and become our next agent.