Belt dryers
With a bespoke belt dryer designed and produced by Dutch Dryers BV you will achieve optimum drying results using low value and/or residual heat. The development and manufacturing process of belt dryers – like that of drum dryers – is undertaken entirely in-house, to ensure optimal quality and quick delivery.
Achieve a good drying result with a belt dryer
A belt dryer is the ideal solution if, for example, you wish to use process heat in order to dry matter with a high moisture level and turn it into a useable dry product. With this type of dryer, a flow of hot air with a temperature of 50 °C is already sufficient to achieve a good drying result. It works by transporting the material to be dried on a moving conveyor belt, with hot air being sucked through the material in order to dry it. In practice, a belt dryer is an especially sustainable solution when the required drying capacity is minimal.
Contact us to discuss the possibilities
Dutch Dryers BV would be pleased to work out a business case for you. Because we build both drum and belt dryers, we are able to help you make a proper assessment. We can also provide you with a combination of belt dryer and drum dryer. So, do not hesitate to contact us to discuss the possibilities and your requirements. Call us at +31 (0) 343 44 99 66 for more information or request a quote.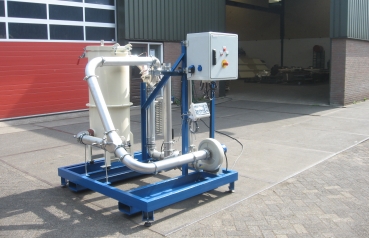 The Netherlands
Belt Dryer test facility Netherlands
Dutch Dryers has it's own belt dryer test facilitty to determine the exact drying curve of your
Read more
Become an agent
Do you want to explore a partnership with Dutch Dryers. Don't hesitate to contact us and become our next agent.