Drum dryer manufacturers and suppliers
Dutch Dryers BV has been developing and building drum dryers – thermal drying systems, whereby the material to be dried is fed through a rotating drum – since it was founded in 2007. During the drum drying process, hot air dries the material. This air can be generated using a gas-fired oven or one that is heated using an alternative fuel. Once the material has reached the required moisture content, it is transported by the air flow to the separator which separates the air and material from each other. Few other suppliers can deliver the same excellent quality drum dryer at the same competitive prices. Read on to discover what sets us apart.
Suppliers of a custom-made drum dryer
Every Dutch Dryers BV drum dryer is custom-made. We build drums with a drying capacity of between 500 and 50,000 litres of water evaporation per hour depending on the process and product. As for the engineering, we pay a great deal of attention to the internal workings of the drum. Our drum dryers guarantee optimum flow due to the well-considered design of the various sections. For example, we have even produced systems in which fibres of up to 40 cm long can be dried without any difficulty.
Few drum dryer manufacturers can match our quality
Our drum dryers are naturally fully automated. The control software that we have developed ensures an optimum and consistent drying result at the end of every process. Our thermal drying systems enjoy a long lifespan because of their robust design. They operate unmanned, while you (and/or we) can monitor and control the system remotely. Dutch Dryers BV drum dryers are an integral part of any production process that guarantee drying organic materials into a reliable output!
Applications for the drum drying process
The drum drying process is suitable for numerous industrial and agricultural applications, from turning alfalfa grass into nutritious bales of animal feed to turning straw into usable bio-fuel. Drum dryer manufacturers often specialise in designing dryers for a single purpose. At Dutch Dryers BV, however, we have experience in building dryers for a variety of materials and applications, including:
Short lead-times and excellent quality
Unlike most suppliers and manufacturers, Dutch Dryers BV can offer fast delivery of a quality drum dryer. Our expert manufacturers us their knowledge and expertise to design and build a drum dryer that meets all requirements of your business, while still maintaining short lead-times and excellent quality and reliability. Choose for the best of suppliers and contact us today to request a business case or quote for your drum dryer. Phone +31 (0) 343 44 99 66 or use the contact form.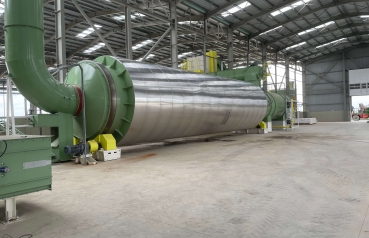 Romania
Drying of lucerne and corn silage into pellets or bales
In Romania, Alfalfa and corn silage is converted into nutritious bales dried product
Read more
Become an agent
Do you want to explore a partnership with Dutch Dryers. Don't hesitate to contact us and become our next agent.