Wood chip dryer
✔ Relatively fast delivery times
✔ Supervision of the process from A to Z
✔ We work and deliver globally
At Dutch Dryers BV, our manufacturers design and build a custom-made wood chip dryer that matches the requirements and capacity of your company. We have many years of experience in building advanced drying systems for materials such as wood chips, alfalfa grass and even sewage sludge. Businesses from all over the world have already relied on our expertise to deliver top quality bespoke wood chip drying systems. How can we be of service to you?
Turn wood chip into usable fuel with a bespoke belt dryer by our manufacturers
Fresh forest wood chips have a high moisture content, which needs reducing before the wood can be used for fuel. As such, wood chips require processing in a belt dryer, where they will be dried by hot air while being moved on a conveyor belt. With our advanced wood chip drying systems, you will achieve an optimal drying result with low residual heat. Drying the wood chips reduces their weight, leading to a reduction in transport costs. Moreover, by processing wood chips with an industrial drum dryer before burning them, their combustion will be cleaner and produce less ash.
Advanced wood chip dryer systems
Our engineers are expert manufacturers and excel at designing and building advanced wood chip drying systems. They calculate the required capacities, specifications, yields and dimension based on the design we create in close cooperation with you. In our company, we value the input of our clients and invite you to spar with us over the possibilities for your bespoke wood chip dryer. As such, the resulting drying systems, whether for wood chips or another material, such as alfafa, offer optimal efficiency and drying results to match your requirements.
Tell us your ideas and we will make them reality
Do you already have ideas regarding the design of a wood chip dryer for your business and would you like to know what is feasible for our manufacturers? We are happy to draw up a business case for you to investigate the many possibilities. Contact us today and we will get started on designing your drying systems. Phone +31 (0) 343 44 99 66  or fill in the contact form. Before you know it, you could be enjoying a bespoke wood chip dryer, made by expert manufacturers.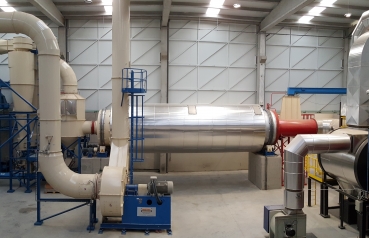 Spain
The production of wood pellets from sawdust
Wood fibres and sawdust are a source of energy, provided that they ...
Read more
Become an agent
Do you want to explore a partnership with Dutch Dryers. Don't hesitate to contact us and become our next agent.