Rotary drum dryers
✔ Relatively fast delivery times
✔ Supervision of the process from A to Z
✔ We work and deliver globally
Dutch Dryers BV is an expert designer and manufacturer of rotary drum dryers for a variety of industrial applications. Rotary drum dryers offer an efficient and reliable method to quickly and continuously dry a variety of materials for a wide range of purposes. Whether you need a drum dryer to dry grass for animal food, a dryer to create wood pellets from sawdust or even a rotary drum dryer to process sewage sludge, at Dutch Dryers BV we are happy to offer our expertise and build you a bespoke drying system.
The process of building custom-made rotary drum dryers
At Dutch Dryers, we follow the same thorough process for building all our rotary drum dryers. As we believe in designing bespoke drying systems that meet the needs and requirements of our customers, we listen closely to your wishes and involve you in the process. As such, the process starts during the orientation phase wherein together we spar over the possibilities for your rotary drum dryers. Once finished, our engineers will start designing a suitable dryer, by calculating the required capacities, dimensions and other specifications. Next, we build the dryer as per your design, with all components assembled on-site. Furthermore, our engineers undertake the commissioning of your rotary drum dryers, which includes optimising the system. Naturally, you can also look to us when it comes to service and maintenance for your dryers; we are always ready to assist with any problems or modifications.
What type of drum dryer do you require?
Contact us today and tell us what uses and requirements your business has for a rotary drum dryer. We will get to work immediately to offer you an advanced, bespoke drying system that provides reliability, efficiency and excellent quality at competitive prices. Phone +31 (0) 343 44 99 66 or contact us through the form.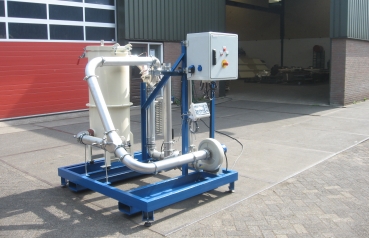 The Netherlands
Belt Dryer test facility Netherlands
Dutch Dryers has it's own belt dryer test facilitty to determine the exact drying curve of your
Read more
Become an agent
Do you want to explore a partnership with Dutch Dryers. Don't hesitate to contact us and become our next agent.